Ingredients
For 8 people
20 Petit Beurre biscuits
100g of powdered sugar
125g of chocolate powder
125g of melted butter
4 egg yolks
A little icing sugar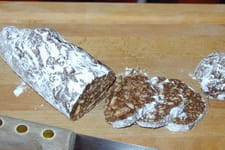 Instructions
1. Whisk the egg yolks and sugar together until it whitens.
2. Add the melted butter and chocolate, stirring well.
3. Crumble or crush the Petit Beurre biscuits and add them to the mixture.
4. Pour the mixture onto aluminium foil, roll it into a sausage shape (you can make two) and chill in the fridge for 3 hours.
To finish, remove the aluminium foil, roll the sausage in icing sugar and serve in slices.